October 6, 2021, National Post – Sweeping federal vaccine mandate goes into force Oct. 30 and targets last holdouts
During a press conference in Ottawa on Wednesday, Oct. 6, 2021, Prime Minister Justin Trudeau said gate agents and flight attendants will check air passengers vaccine records at the beginning of the new federal vaccine mandate.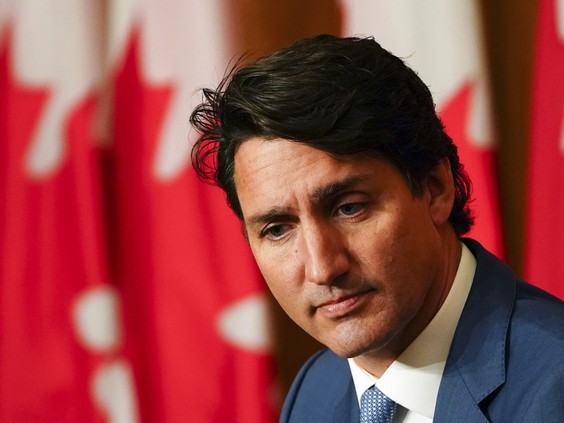 National Post article is also viewable here
OTTAWA — Unvaccinated travellers have until the end of the month to get vaccinated or they won't be able to take-off, and public servants who don't get the jab could soon be suspended or even fired, under new vaccine mandates introduced Wednesday.
The sweeping mandate, which Prime Minister Justin Trudeau promised during the campaign, require all air travellers, rail passengers and people travelling on cruise ships to be vaccinated as of Oct. 30.
Trudeau insisted this is a necessary step to reach the holdouts who have not been vaccinated and allow Canadians to return to a more normal life.
"When it comes to keeping you and your family safe, when it comes to avoiding lockdowns for everyone.. this is no time for half measures," he told a morning press conference.
For the first month travellers will be able to substitute a negative COVID-19 test for proof of vaccination, but that exemption will end on Nov. 30.  There will continue to be medical exemptions, but Trudeau said they will be rare and anyone who can should get vaccinated.
"Exemptions, whether they're medical exemptions or otherwise, will be exceedingly narrow, specific, and to be honest somewhat onerous to obtain," he said.  "Simply having a personal conviction that vaccines are bad will not be nearly enough to qualify for an exemption."
Trudeau said they're working with airlines to streamline the process, but in the beginning gate agents and flight attendants will have to check passengers' vaccine records. He said the goal is to make the process as seamless as possible.
"The work that we're doing with major carriers in this country is to integrate the proof of vaccination digital codes into their online booking process so that when you print out your boarding pass, or at the airport, or in advance, there will be a clearly marked proof of vaccination," he said.
The federal government is also working on a vaccine passport for international travel, and Trudeau promised more details on it in the coming weeks.
Mike McNaney, president and CEO of the National Airlines Council of Canada, said major carriers like Air Canada and WestJet support the policy, but implementing it won't be easy. He said the government should work quickly on the vaccine passport.
"Timelines are very tight to implement the travel rules. While we are committed to effective implementation it is imperative that the federal government quickly develop a standardized and digital proof of vaccination for air travel," he said in a statement.
McNaney said the airlines heard little about the details of the policy during the election, so they need government to work with them now.
Morgan Bell, a spokesman for WestJet, said 98 per cent of the airline's' staff is vaccinated and they expect to be at 100 per cent by the government's deadline.
Trudeau said the mandate also targets public servants, even those working from home, who will have to be vaccinated or face suspension.
The policy will initially apply to core public servants working directly for the government, some 250,000 employees, but the government is requiring Crown corporations, like Canada Post, to follow suit.
Under the rules, public servants will have to sign an attestation stating they have been vaccinated by Oct. 29. If they refuse, they will be suspended without pay until they are vaccinated.
"Exemptions, whether they're medical exemptions or otherwise, will be exceedingly narrow, specific, and to be honest somewhat onerous to obtain"
Trudeau said the attestation process allows the government to move quickly and they will be doing thorough audits of the attestations to ensure public servants aren't lying.
"The attestation for the public service is the first step. There will be severe consequences for anyone who is found to have been misrepresenting themselves."
He said there will be little tolerance for public servants who won't get the vaccine.
"If you want to continue to work for the public service in Canada, you're going to need to be fully vaccinated."
Approximately 82 per cent of eligible Canadians have received a double dose of Health Canada-approved vaccines.
The Public Service Alliance of Canada, the government's largest union, does not have a record of how many of its members are vaccinated, but expects the vast majority have had their shots.
There are almost 300,000 federal service workers, plus 955,000 federally regulated workers, representing about eight per cent of the country's full-time workforce, according to the Treasury Board, which manages the public service.
The union said while it supports a vaccination policy, this one was rushed.
"The government rushed their vaccination policy without meaningful consultation with the unions representing federal public service workers.  Treasury Board gave unions less than a single business day to provide feedback on their policy, and then failed to incorporate any of the changes into their final policy," the union said in a statement.
PSAC said it would continue to advocate for workers who don't get vaccinated and work to ensure the policy respect its members' rights.
NDP Leader Jagmeet Singh said the prime minister had delayed the actual implementation of the mandate by calling an election in August.
"Justin Trudeau pretends to show leadership, but his selfish decision to call an election has delayed actions to help people get out of the pandemic.  If it wasn't for the weeks spent on an unnecessary election campaign, the government could have ensured federal workers were vaccinated right now."
The Conservatives were the only major party not to demand all their candidates were vaccinated during the past election.  The party's health critic, Michelle Rempel Garner, said the Conservatives were reviewing the new rules.
"Canada's Conservatives support measures to keep Canadians safe and stop the spread of COVID-19.  We are actively reviewing this policy."