April 13, 2023, The Calgary Herald – Airlines pushing for restructuring of Canadian air travel costs
Large fees are keeping ultra-low-cost carriers, like those seen in the U.S. and Europe, from entering the Canadian aviation market, executives and analysts say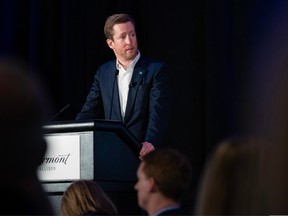 Click here for Calgary Herald article
If Canadians want cheaper tickets to fly, the airline industry says there needs to be a restructuring of the fee system.
On Wednesday, Alexis von Hoensbroech, president and CEO of WestJet, said $140 of a round-trip ticket between Calgary and Toronto goes to airport fees, security and regulatory bodies such as NAV CANADA. This is before covering actual costs of the flight such as crew, gas or plane maintenance.
"Our ambition is to make aviation more accessible for Canadians, and we think that Canadians deserve to have lower ticket prices than they're experiencing today," the head of the Calgary-based airline told media following a luncheon with the Calgary Chamber of Commerce.
And those add-on costs are about to go higher.
The federal budget denotes a 30 per cent increase to the charge for security, which will be added to ticket prices.
'We're not getting our bang for the buck'
Jeff Morrison, the president and CEO of the National Airlines Council of Canada, said the costs are piling up for consumers.
"If we want to be competitive, as a Canadian sector, this kind of constant drip, drip, drip of new fees or increased fees — it's got to stop.  Otherwise all airlines will continue to be at a competitive disadvantage," he said, while also pointing to a proposed new charge that will be tacked on to airlines through the Canadian Transportation Agency for every passenger claim that goes to the CTA.
The federal government owns the major airports in Canada that are operated by non-profit authorities, which then lease the airports from the government.
Annually, the federal government collects about $300 million in lease payments from the authorities, which the industry says does not go back into the sector or toward improvements.
Morrison pointed to air travel issues at Pearson International Airport in Toronto over the holidays where an antiquated baggage system failed and contributed to many problems.
"We're not getting our bang for the buck," he said.
Additional costs preventing ultra-low-cost airlines from entering Canadian market, aviation analyst says
Morrison noted the increase in security fees is to going to cover a $1.8-billion increase in the budget for the Canadian Air Transport Security Authority, the bulk of which will be sunk into operational costs, not improvements.
Rick Erickson, a Calgary-based aviation analyst, said he makes a habit whenever he is at an American airport near the Canadian border to check the parking lot for Canadian plates.  For many, it is cheaper to drive to the U.S. to catch a flight.
This is a major reason ultra-low-cost carriers have largely been non-existent in Canada while saturating the market in the U.K. and excelling south of the border.  Calgary-based Lynx Air is trying to change that narrative, while Flair airlines has experienced its own issues recently.
"There's probably a dozen fair-sized U.S. carriers . . . a number of ultra-low-cost carriers, not one of them . . . comes to Canada," he said.  "Because they can't charge $99."
Also threatening the airline industry with higher costs are Air Passenger Protection regulations, originally passed in 2019.  This legislation is intended to provide a recourse for passengers who have flights cancelled or delayed for at least two hours, or their luggage is lost or damaged.
Airlines are held responsible regardless of the cause of the delay, be it weather, insufficient security at the airport to move people through customs or even a breakdown in airport infrastructure.
On Wednesday, von Hoensbroech said the cost was "a significant double-digit million figure" for WestJet this past year.
He said those costs would likely be recovered through increases to ticket prices.
Transport Canada recently launched consultation looking at future of Canada's airport system
The industry is calling for a shared accountability approach to the APPR, tying fines or reimbursement to where the issue originated from.
"If we really want to improve air travel, airlines can't do it alone," said Morrison. "For the past year or so, it's pretty much been airlines had the finger pointed at them for being the ones responsible for all this disruption, which is simply not true.  There's a lot of different players."
There is no easy fix to these issues.
Transport Canada has recently launched a consultation looking into the future of the Canadian airport system, and Morrison said looking at all the fees and service charges need to be a priority.
Erickson said radical change is required, and that the system needs to be privatized as it is in Europe where it is far more successful and affordable.
"Those people are smart enough to realize that we can't gouge," he said.  "We have a responsibility to our travelling public to have this facility, but we can do a much better job of managing it, and the tools available to private sector ownership are quite a bit better than public sector ownership in terms of accessing capital."