November 19, 2021, CP24 – COVID-19 test requirement for short-term visits to U.S. to be dropped Nov. 30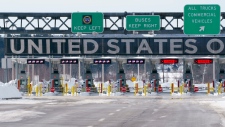 Click here for the federal announcement and Canadian Press report
WASHINGTON – Ottawa is effectively installing "one-way" signs along the road to the Canada-U.S. border, critics complained Friday as the federal government promised to stop requiring costly COVID-19 tests to enter the country – but only for Canadian citizens and permanent residents returning from short-term visits.
As of Nov. 30, fully vaccinated travellers who can enter Canada by right won't be required to obtain a molecular test for COVID-19, such as a PCR test, if they've been in the United States for less than 72 hours, Health Minister Jean-Yves Duclos told a news conference.
"With more Canadians getting vaccinated every day, we can move forward, though cautiously, towards a more open border, economy and society," Duclos said.  "At the same time, we can't let our guard down. Every one of us must work to protect the gains we have made."
The PCR test requirement for American visitors to Canada, he added, will be re-evaluated in due course, with an update on any plans for adjustments "at a later date."
The news was underwhelming to those in both countries who believe it's high time Canada stopped requiring the test altogether, arguing that the price tag of between $150-$300 per swab is proving a deterrent to the lucrative flow of incidental cross-border traffic.
The Canadian Chamber of Commerce promptly panned the decision, calling it a "one-way door on the border."
"Just as the holiday shopping season – the most important period for the retail sector – begins, Ottawa is making it easier for Canadians to cross-border shop while maintaining punitive restrictions that discourage fully vaccinated Americans from vacationing or shopping in Canada," chamber president and CEO Perrin Beatty said in a statement.
"The 72-hour cutoff is also arbitrary. It is hard to understand how travellers are low-risk for 72 hours, but become a danger at hour 73."
The National Airlines Council of Canada, which represents the country's largest carriers, said it was "somewhat encouraged" by the announcement, but in the same breath called it a "piecemeal approach" with no clear scientific justification.
"To our knowledge, no other country in the world has adopted such a narrow approach," council president and CEO Mike McNaney said in a statement.
New York congressman Rep. Brian Higgins, arguably the loudest U.S. critic of any persistent border restrictions against fully vaccinated travellers, sounded equally bemused.
"The public is again left confused and waiting for more information," Higgins said.  "The same standard should be applied to all vaccinated travellers, regardless of which side of the border you are crossing into or where you live."
Public health officials in Ottawa insisted that the discrepancy in travel rules at the Canada-U.S. border has nothing to do with nationality.  Dr. Theresa Tam, Canada's chief public health officer, said it has more to do with "operational considerations" than anything else: the ability to keep tabs on people who enter the country.
For American visitors, "there is no way that we can actually follow them up in terms of return or the length of the trip," Tam said.
"For Canadians, there are systems in place that we can track in terms of someone leaving Canada and coming back in. But we are continuing to explore a phased approach to easing those measures."
Tam's deputy public health officer, Dr. Howard Njoo, said from an epidemiological perspective, it's reasonable to assume that in communities near the border where most short-term visitors are going to gather, the level of the virus is likely to be about the same on either side.
"If a Canadian wants to go across for a quick shopping trip in the U.S. … the actual risk for themselves, as well as when they come back to Canada, is pretty minimal," Njoo said.
"However, if you're just talking about Americans in general coming to Canada, you can see there's still lots of hot spots in the United States, and we have no idea what any given individual, regardless of nationality, what they've been doing or what community or situation they're coming from."
Friday's announcement did open Canada's borders to some: anyone who received the Sinopharm, Sinovac or Covaxin shots, approved by the World Health Organization and common in China, India and elsewhere around the world, will by the end of the month be considered fully vaccinated for travel purposes.
However, beginning early next year, the government will close loopholes for certain unvaccinated travellers, including international students, professional and amateur athletes, work permit holders and essential-service providers, including truck drivers. A family-reunification exemption will also end Jan. 15.
The only exceptions after that date will be for agricultural and food processing workers, marine crew members, those entering on compassionate grounds, new permanent residents to Canada, refugee resettlement and some children under the age of 18.