August 15, 2022, National Post – Airlines push back against incoming passenger refund requirements
Starting Sept. 8, airlines will have to refund or rebook passengers for delays and cancellations even when the issue is something outside of their control, like weather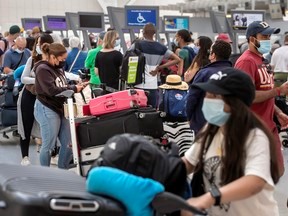 Click here for original article
OTTAWA – Canada's airlines say new rules forcing them to refund or rebook passengers, even when delays and cancellations are outside their control, are unfair, especially as the industry struggles.
The Liberal's bill of rights for air travel came into force in 2019, requiring airlines to rebook or refund passengers when a flight is cancelled or excessively delayed because of circumstances an airline can control, like oversold flights.
But starting Sept. 8, airlines will have to refund or rebook passengers for delays and cancellations even when the issue isn't in their control, for problems like weather.  The rules will require them to rebook passengers on a new flight within 48 hours of the original flight or they must offer the passenger a full refund.
Jeff Morrison, president and CEO of the National Airlines Council of Canada, said that puts all of the pressure on airlines, at a time when they whole sector is facing challenges.
"Airlines will essentially be required to shoulder the entire burden of responsibility for flight disruptions, despite the fact that so many other partners and players are involved in the air travel experience," he said.
Canadians taking to the skies this summer have faced ongoing pandemic restrictions, security delays and issues at customs as they return from abroad. Morrison said it's not fair, while those problems still persist, that only airlines have to put money on the table.
WestJet spokesperson Madison Kruger echoed Morrison's comments and said government agencies like the Canadian Air Transport Security Authority and the Canada Border Services Agency, as well as airports and other parts of the system, should all be involved.
"We are disappointed that airlines continue to be singled out as the only point of ownership and accountability for travel in Canada as this must be a shared responsibility by the entire ecosystem," she said in an email.  "Requiring airlines to be the sole provider of reimbursement for delays outside of the airline's control creates an unbalanced system that does not reflect the responsibility that we collectively hold to the Canadian traveller."
Morrison said the industry is also worried about ongoing pandemic restrictions, including the mandatory use of the ArriveCAN app.  He suggested the new refund obligations should be delayed at least until the pandemic restrictions are no longer in place.
"These new regulations are in place at a time when something like 60 countries in the world have completely done away with pandemic restrictions. We still face them so that's another concern."
Morrison stressed airlines are doing everything they can to avoid delays and cancellations.
"We want to see them as a kind of last resort and ensure that everyone gets to where they need to go."
Airlines can dispute possible refunds and even under the current rules passengers have complained that airlines have said issues like crew shortages are beyond their control.  Passengers can appeal those denials to the Canadian Transportation Agency, which has recently warned airlines that they must provide clear evidence if they are claiming a crew shortage is beyond their control.
The new refund obligations were added to the rules following the COVID-19 pandemic when airlines cancelled hundreds of flights and offered few refunds until the government provided a massive financial aid package.
Data the government released on Thursday is showing improvement in the system.  During the week of Aug. 1-7, 97 per cent of flights were not cancelled and 85 per cent of flights from the country's largest airports left on time, up from 75 per cent in the first week of July.
During the height of delays, passengers returning from overseas were often held on the tarmac because Toronto Pearson's customs hall was too full.  That happened to 19 aircraft in the last week of July, compared to 373 in the last week of May.
Security screening is also improving with 88 per cent of passengers clearing that hurdle within 15 minutes.
Transport Minister Omar Alghabra was not available for an interview Friday, but his office released a statement and said airlines need to follow the rules, including the new refund obligations.
"Airlines need to follow the rules set out by the CTA because they have an obligation to ensure their operations respect the rights of passengers."