July 18, 2021, CP24 – Restrictions at U.S. border to remain in place until end of July, Trudeau says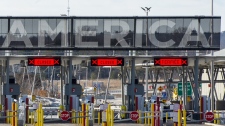 CP24 News also viewable here
OTTAWA – Travel restrictions at the Canada-U.S. border will remain in place for at least another month to prevent a fourth wave of COVID-19, Prime Minister Justin Trudeau said Friday while acknowledging growing frustration with how the issue was being managed.
Measures to limit non-essential international travel have been in place since the onset of the COVID-19 pandemic in March 2020, with the latest extension set to expire Monday.
On Friday morning, the measures got another one-month extension until July 21.
Pressure to relax restrictions is mounting from businesses and politicians on both sides of the border as vaccination rates climb in Canada.
Trudeau said it would take 75 per cent of Canadians getting a first dose and 20 per cent receiving a second before rules can be loosened because a fully vaccinated individual can pass COVID-19 to someone who is not vaccinated.
He said he understood growing impatience from tourism operators and Canadians who want to travel, but the government didn't want to risk another flare-up of COVID-19.
"If we are able to avoid more outbreaks like we've seen in some places across the country, even recently, by delaying a little bit more by keeping people safe – so we're not seeing more people in hospitals, and more people and more families losing loved ones – then that's the right decision," Trudeau said from his Ottawa residence, where he is isolating after a trip to the U.K. to meet with leaders from G7 nations.
The decision garnered immediate criticism from two U.S. congressmen who co-chair the Canada-U.S. Interparliamentary Group.
Western New York Democrat Brian Higgins and Michigan Republican Bill Huizenga decried the lack of transparency around the border talks as a disservice to residents on both sides of the border who want to see loved ones and renew business ties.
"While the arrival of vaccines in record time has been a modern marvel, the inability of the U.S. and Canadian governments to reach an agreement on alleviating border restrictions or aligning additional essential traveller classes is simply unacceptable," the duo said in a statement.
Goldy Hyder, president of the Business Council of Canada, which represents Canada's largest employers, called for a clearly articulated plan to reopen the border safely "so that friends and families can be reunited and businesses can welcome back travellers."
Perrin Beatty, president of the Canadian Chamber of Commerce, said the policy should be based on whether a traveller is vaccinated, not on nationality.  He noted how France now allows Canadians and Americans to visit, which makes it easier to travel abroad than within this country and to our closest neighbour.
"We are the deer caught in the headlights, unable to move," Beatty said in an interview.  "What the government is doing flies in the face of science, of economics and good public policy."
The scenario envisioned, and laid out to premiers during a Thursday night call with Trudeau, would see restrictions gradually eased starting July 21 for fully vaccinated travellers first, said Quebec Premier Francois Legault said.
"It's clear that either you get a double dose of AstraZenca, or double dose of Moderna or Pfizer, or a mix of double doses, (and) you will have access to international flights," Legault said at an event in Laval, Que.
More details on rules for vaccinated Canadians and permanent residents are scheduled to land Monday.
Trudeau said the government plans to have Canadians upload proof of vaccination pictures to the ArriveCan app so border agents can verify someone is fully vaccinated when travelling this summer.
For the fall, Trudeau said federal officials are working with provinces to automatically share vaccination status, which could then be accepted around the world.
He also said the government is working with other countries on ensuring travellers who receive vaccines not approved in arriving countries are still able to safely enter.
"Having to demonstrate that you have been vaccinated has been a standard piece of international travel since international aviation began," said Mike McNaney, president of the National Airlines Council of Canada, in an interview.
"We've been quite supportive of the government coming up with a policy and a mechanism on how it's going to capture that data."
There are yet other issues that need to be addressed, Trudeau said, including what to do about children under 12 for whom vaccines have not been approved.  He suggested children could be subject to a repeated testing regime after arrival because having a two-week quarantine away from vaccinated parents may not be possible.
Later Friday, the Federal Court upheld the constitutionality of the federal government's quarantine hotel program, but said the way the measures were imposed on one applicant in the case – who wasn't told where she was going or of her right to a lawyer – violated her charter rights.
The ruling from Chief Justice Paul Crampton said anyone engaging in behaviour that poses a risk to public health cannot expect the law to prevent the state from performing its essential function of protecting citizens.